Benefits of choosing ABS POS
1
Faster customer service
A satisfied customer will be happy to visit you again
2
Generating sales reports
Customized reports available in one place
3
Greater control over your business
from anywhere, at any time
4
The possibility of an attractive form of leasing
System functions
Receive orders on the screen in the kitchen
Generate reports and collect the database of your clients
Take the orders using the tablet
Control everything from your phone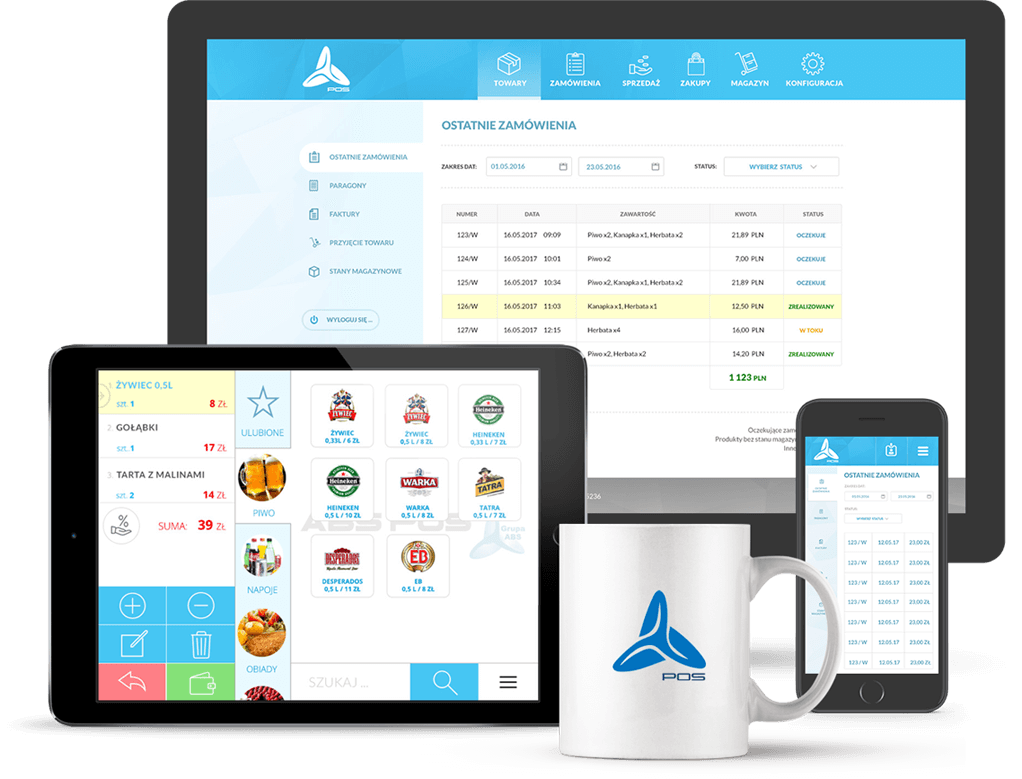 The scheme of the application
The waiter takes the order using ABS POS on mobile device and immediately sends it to the places, where it will be prepared. He also immediately receives information about the order ready to release. When it comes to pay the bills, the client can choose the most preferable payment option.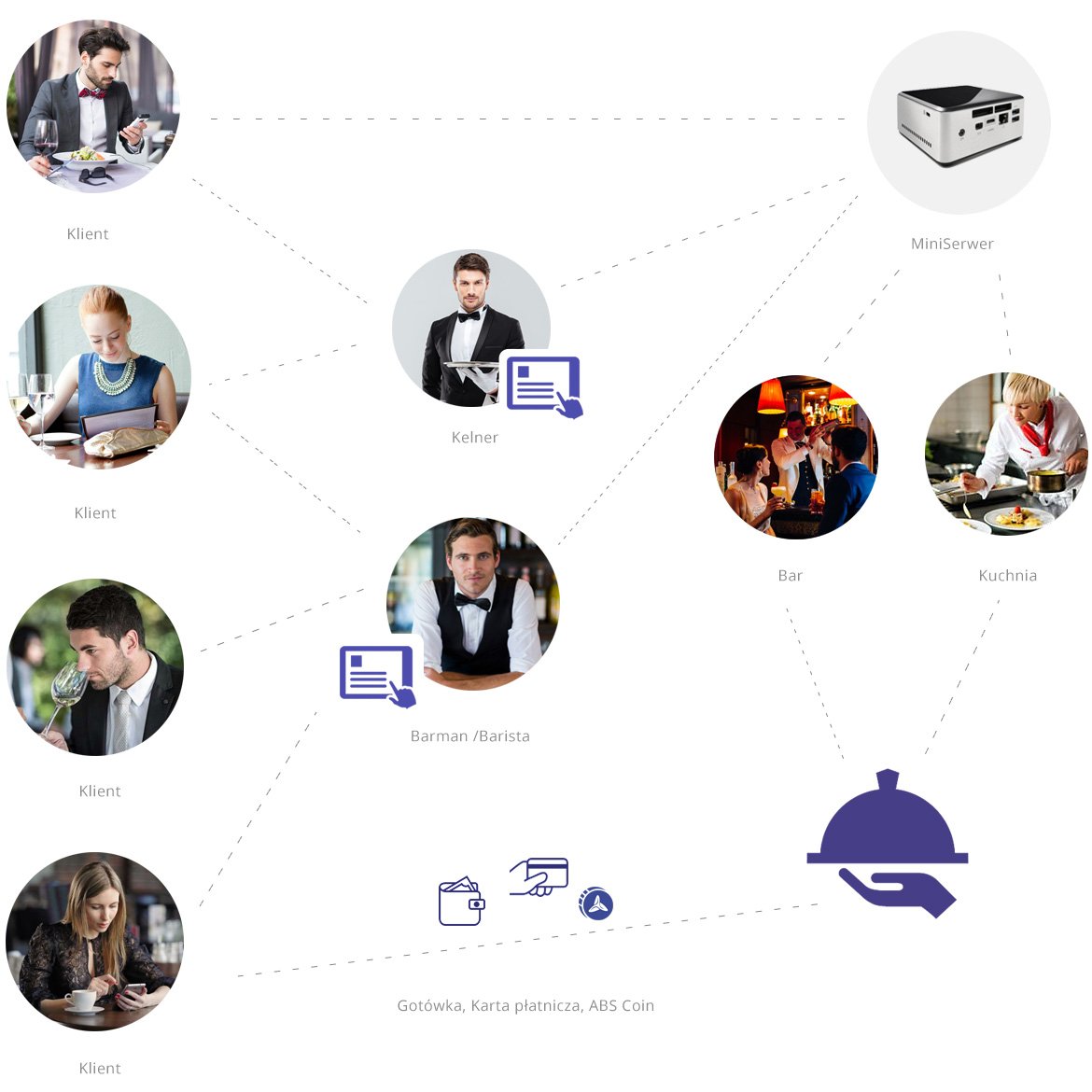 Unique features
Intuitive interface of ABS POS application created by professional developers for increasing the comfort of your work.
The PLU base is presented with icons. There is possibility to assign your own picture, which helps to identify the position.
The division into categories helps to organize the base and makes easier to find a position.
The customer's order appeats in the form of the list – the position with given quantity and price. It allows to quickly confirm the order or introducing possible corrections.
Fast searching, which is helpful with frequently added new items in the menu.
The customized payment method: cash, card, bank transfer or invoice. An additional option to divide a receipt into various payment methods.
Look at more info https://casinoonlineca.ca/payment-options/paypal-casino/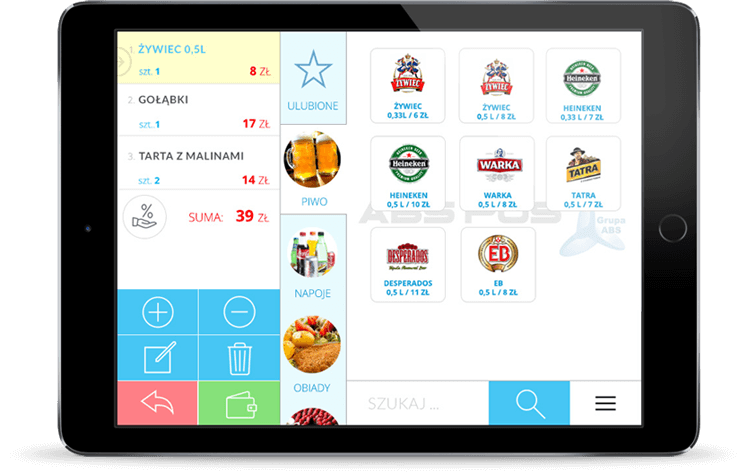 Mobile application
works on every smartphone and tablet with Android or iOS, which is available on the market. The application does not require Wi-fi connection. Changes added during offline time will be saved immediately after connection renewing.
Data cloud
Irreplaceable form of data storage. At all times the whole base is ready to download on each new mobile device in the restaurant.
User-friendly menu
Graphic PLU: all items and services are presented as icons with the option of added customized photo.
Lunch sets: quick sets creating, which can be modified depending on f.e. season or party circumstances.
Pizza: standard positions with possibility of modification based on all available ingredients. The additional option Pizza 1/2 allows to combine two favourite pizzas from the main menu.
Delivery: easy way to mark the order, which should be delivered to customer.
Item searching: makes easier finding food and services.
Graphic arrangements of tables
arrangement and marking of tables in the room, which makes customer service easier. It also gives the possibility of table assignment to a specific waiter, which helps in settling them at the end of the day.
User-friendly for customer
Receipt division: An useful feature in handling a larger number of people, who do not declare dividing bills at the beginning of ordering.Thanks to this feature we do not disturb the good mood of our clients with unpleasant formalities.
The order of serving dishes: all items on the receipt can be described by the order of serving. For example: a meal for children always as first in the order or starters and soups served simultaneously at the customer's request
Taking orders divided into tables and chairs: useful feature in handling a larger number of people who declared dividing bills at the beginning of ordering.
Smart management
JPK file generation: a document with specific layout and format, sent only as electronic file. It should be remembered, that even despite the lack of a request from the Tax Office, the enterpreneur is obliged to compile and archive a Single Control File.
PIN code: each employee's login with a PIN code. Thanks to this feature there is possibility of generating reports. PIN code can be use to confirm by manager f.e. deleting items on receipt or deleting receipt.
WEB panel: application management from home.
Modularity
Discounts: possibility of creating discounts added to receipt, which are customized, f.e. regulat customer's discount or VIP discount.
Reports: Available f.e. quantitative reports, valuable reports, employee reports. Their range is customized.
Warehouse module (recipes, weights): Allows to enter purchase invoices. Each receipt decreases the warehouse level, the application informs also about low level of the stored items.
Invoices module: generating sales documents, reprint of them, preview.
Payment by cryptocurrencies
Apart from accepting payments in cash and with payment cards, the ABS POS system also enables payment by cryptocurrencies such as: Bitcoin, ETH, Ripple, Stallar, ABS Coin * (* in preparation)
Apart from accepting payments in cash and with payment cards, the ABS POS system also enables payment by cryptocurrencies such as: Bitcoin, ETH, Ripple, Stallar, ABS Coin * (* in preparation)





Customer's smile and satisfaction is the key to success
With help of catering companies, we created ABS Gastro application, which gives the possibility of taking the orders one day earlier. The clear description and the photo of foot will ease ordering and composing favourite breakfast or lunch.
We develop all applications on our own from the basics and we adjust it to customer individual requirements. The good example is ABS Leaflets application, which shows the whole, coherent picture of work of people, who spread leaflets. Saving the place of delivery allows to carry out further analysis of employee efficiency or interest in offered products.
All of our solutions support ABS POS system.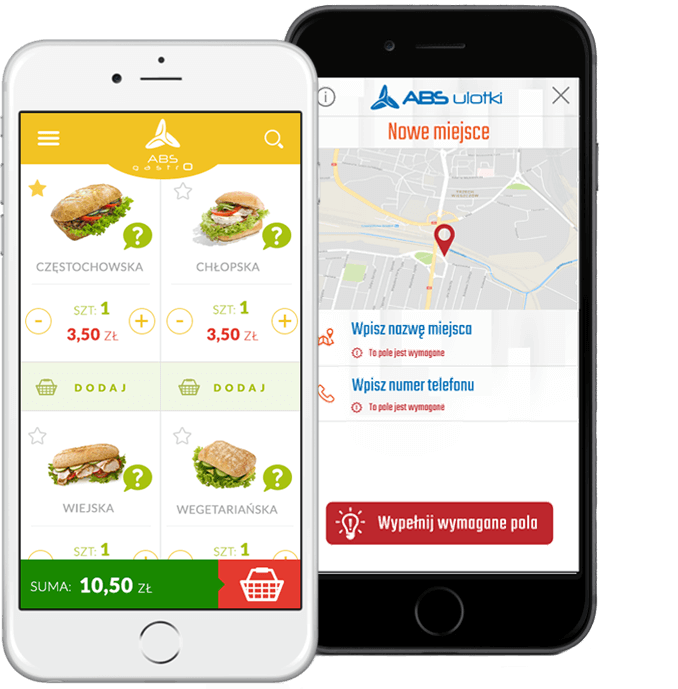 Presentation of the ABS POS system
Simple, cheap application. The photos of meals make sale process much easier, fast sending to the kitchen eliminates possible mistakes.
Very nice application. It provides the possibility to assign identifiers to orders and to display them when they are ready to serve.
The application gives you great opportunity to modify ingredients, prices, meals, what allows flexibility while the customers order meals. Additional tablets, which are used to taking orders from clients, make the service faster.
Awesome application, which allows making your own customized pizza. And the option of choosing two different halves of pizza - just great.
This application is perfect for café, large icons make easier to find the right item. They can be changed at any time. The developers help with implementation of the database.
Questions?
Our client advisor will be happy to answer all your questions. We are available from Monday to Friday during the hours 9 A.M. - 5 P.M. You can also contact us via our notification form.
Adrian: +48 790 326 700
Kasia: +48 577 225 700
Dawid: +48 534 209 700
biuro@abspos.pl