ABS POS – is a mobile sales application designed for small and large restaurants, cafes, pubs and small gastro. Point of sale software for handling commercial, service and catering outlets. Via the POS system it is possible to print receipts, invoices or orders. Works with fiscal printers and voucher printers (so-called kitchen printers). Additional sales channels are Easy QR Menu and download. The application includes additional modules – for device operation and an intuitive Dashboard. An additional element of the ABS POS system is the on-line management panel configurable for each client individually.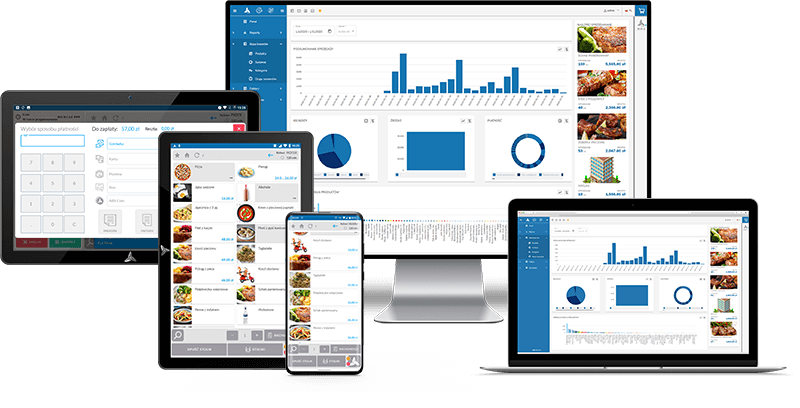 1

2

3

4

ADDITIONAL SALES CHANNEL
Unique Features!
Intuitive ABS POS application interface created by professionals to increase the comfort of your work.
The PLU database is represented by icons, you can assign your own photo to help identify the position.
Works with all ON-LINE Elzab, Novitus and Posnet fiscal printers.
Mobility of taking orders – a tablet for each waiter or Easy QR Menu.
Fast communication with the kitchen using a voucher printer (so-called kitchen), tablet for order confirmation, and a TV grouping products.
Issuing an order, receipt, invoice from one place.
Fast communication – client <-> waiter <-> cook
Intuitive appearance of the ABS POS application on the bar as well as for waiters
Data analysis (orders, receipts, invoices), adding and removing MENU from anywhere in the world – ABS POS web panel
Full employee control – every employee logs in with their own PIN
Simple or extended warehouse – recipes
Why use our POS software?
Running your own catering business is a very demanding way of doing business. Restaurateurs must face considerable market competitiveness. Their tasks also include encouraging customers to take advantage of the offer and their impeccable service. One of the biggest problems is also the effective management of the catering establishment. The solution recommended for owners of both small and large restaurants is the application improving the sale of ABS POS.
Accepting orders and printing bills
The ABS POS gastronomy system we offer significantly improves sales service. It significantly facilitates the acceptance of orders, and also enables faster service to a larger number of people. Commands placed by customers can be sent almost immediately to the employee who will be entrusted with their preparation. The basis of our system is also efficient communication between the ABS POS program and a fiscal printer. Restaurant software significantly simplifies the printing of receipts and invoices for end customers. The POS system is able to work with a mini server, thus enabling communication with any external devices via WiFi or LAN. This applies to, among others voucher printers, scales, barcode readers or drawers.
Inventory control
The POS system is a solution designed for usability, speed and simplicity of use. Our software gives the possibility of comprehensive supervision over the company's resources. Thus, the system provides full control over the inventory owned by the gastronomic establishment. Our program is an extremely functional tool, thanks to which you can easily supervise all activities in terms of resources. This solution facilitates more efficient finalization of orders, which can be transferred for processing immediately after verifying the current stock levels. This functionality also provides convenience to customers who immediately receive information about the availability of selected items.
Easy operation, comprehensive communication and time saving
The tool we offer perfectly meets the needs of smaller premises, which is conducive to business development and acquiring new customers. Our comprehensive gastronomy system is distinguished by simplicity of use. After the installation, a brief training of employees is sufficient, after which the software is fully ready for work. Ease of use is influenced by the transparent graphic menu. The software also enables wireless communication with various devices, including fiscal printers or tablets. In practice, this significantly reduces the processing time of individual orders, thanks to which customers receive a meal much faster. However, saving time is not everything. Our restaurant software eliminates the risk of an order being lost or incorrectly saved by an employee.
ABS POS – software for gastronomy
ABS POS is a modern system solution specially developed to improve resource management processes in a company. The interactive system consists of ABS POS software and an interactive terminal, which can be e.g. a telephone, tablet or touch monitor. The solution we offer is an interactive tool for handling sales processes. Our software is able to find application in virtually every industry. Particularly noteworthy are gastronomic establishments, in which efficient resource management is of key importance for the efficiency of the entire business. Thanks to ABS POS, take care of customers' comfort by providing them with efficient order and payment services. The gastronomy application allows easy extension of categories and menu items, as well as any modification of served dishes.
ABS system functions
The ABS gastronomy program is not a closed project, so its version can be adapted to the specifics of the premises. By additionally equipped with a financial printer and a tablet, you can gain an extremely functional sales system. Our gastronomy software is very easy to use – both for serving guests and customers themselves. Ordering individual dishes is much faster and more pleasant. The ABS POS gastronomy program enables easy communication between the touch terminal and fiscal printers. Everything is done wirelessly, without having to connect any wiring. Orders can be collected at the tables of guests of the catering establishment, and then immediately send them to the printer and print the finished bill.
A modern application for gastronomy
By deciding to order an ABS POS gastronomy application, you can be guaranteed that the prepared project will be professionally developed to meet the specific business needs of the company. We are able to prepare a fully functional tool, as well as verify the correctness of its operation. We also conduct training in the use of software, so that the use of its options will not be a problem for any employee. In case of need we can also provide professional support at further stages of the system operation. The ABS POS gastronomy software we offer has a wide range of modifications. The system is also constantly updated, thanks to which it meets all the latest standards represented by modern applications dedicated to serving gastronomic establishments.
System Features
Analyzes, sales and order reports
Menus, categories, ONLINE magazine - always at hand in the cloud
Transparent restaurant management panel - charts, tables, diagrams
Control of external devices - ONLINE fiscal printers, voucher printers, additional tablets for waitresses - from the tablet
Customer service via tablet - orders, receipts, invoices
Mobile waiter - flexible approach to orders, receipts and invoices in one place
Tablets or phone for mobile waiters - quick and efficient order processing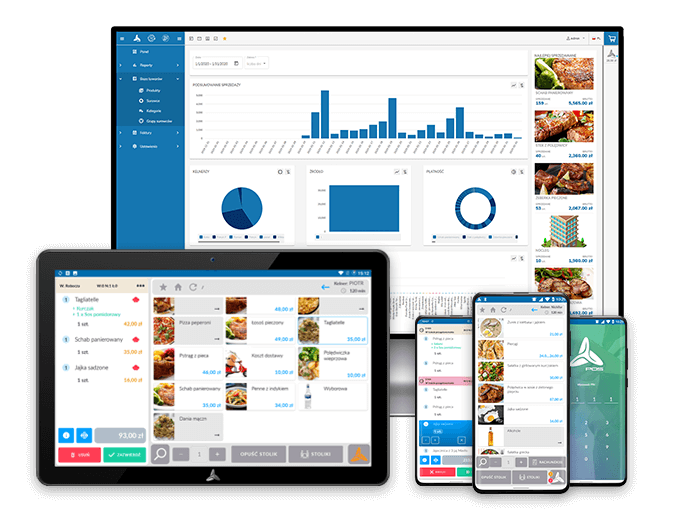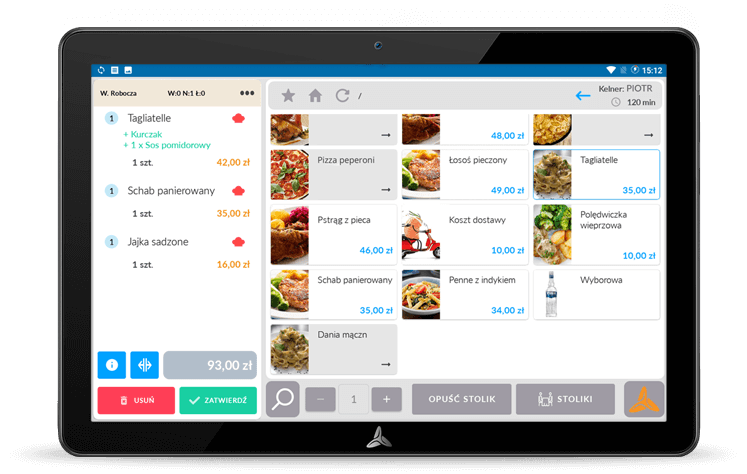 Features of the ABS POS system
mobile application
works on every smartphone and tablet with Android and iOS operating system available on the market. The application does not require connection to the WifI network. Changes made while working offline will be saved as soon as the network connection resumes.
Cloud with data
An irreplaceable form of data storage. At any time, the entire database is ready for download on every new mobile device in the premises.
Friendly menu
Graphic PLU: All goods and services are displayed as icons with the option of assigning your own photo.
Dinner sets: Quickly create sets that can be modernized depending on e.g. the season or the circumstances of the party.
Pizza: standard items that can be upgraded based on all available ingredients. In addition, the Pizza 1/2 option allows you to combine two favorite pizzas from the main menu.
Delivery: An easy way to mark food with delivery to the customer.
Searching for items: makes it easy to find dishes, services.
Graphic table arrangement
arrangement and marking of tables in the room to facilitate customer service. It also gives you the option of assigning a table to a specific waiter, which makes it easier to settle them at the end of the day.
Customer friendly
Splitting a receipt: A useful feature when servicing a larger number of people who do not declare to divide an invoice at the beginning of orders. Thanks to this, we do not disturb the good mood of our clients with unpleasant formalities.
Order of serving dishes: All items on the receipt may have an order of serving. For example: a portion for children always as the first in the queue or as starters and soups delivered simultaneously at the customer's request
Accepting orders by tables and chairs: A useful feature when servicing more guests who have expressed a desire to pay in advance on separate bills.
Intelligent Management
JPK file generation: A document that has a specific layout and format, sent only in electronic form. It should be remembered that even though there is no request from the Tax Office, the entrepreneur is obliged to prepare and archive the Uniform Control File.
PIN: Log in to each employee with a PIN. Thanks to this it is possible to generate settlement reports. The PIN code can also be used to confirm by the manager, e.g. deleting a position on a receipt or deleting a receipt.
WEB panel: manage the application from home.
modularity
Rebates: the ability to create rebates granted to the receipt, in accordance with the customer's guidelines, e.g. discount for a regular customer or VIP discount.
Reports: Available among others quantitative, valuable and employee reports. Their scope is adapted to the individual needs of the client.
Warehouse module (recipes, weights): allows you to enter purchase invoices. Each receipt reduces stock, the application also informs about low stocks of individual components of the product.
Invoice module: generate sales documents, reprint them, preview.
Cryptocurrency payment
In addition to accepting cash and payment cards, the ABS POS system also enables payment with cryptocurrencies such as Bitcoin, ETH, Ripple, Stellar, ABS Coin * (* in preparation)
In addition to accepting cash and payment cards, the ABS POS system also enables payment with cryptocurrencies such as Bitcoin, ETH, Ripple, Stellar, ABS Coin * (* in preparation)





Presentation of the ABS POS system
Select a system ABS POS for yourself!
MINI
Polecamy dla:
Small Gastro
Food Truck
Bars
Sweets
Cafes
Wybieram
STANDARD
orders
receipts
invoices
warehouse
kitchen print
Wybieram
PREMIUM
We value your ideas individually
Wybieram
• Updates • cloud • technical support through 365/7 / 24h
Annual fee 365 days x 1, – net = 365, – net
Simple, cheap application. The photos of meals make sale process much easier, fast sending to the kitchen eliminates possible mistakes.
Very nice application. It provides the possibility to assign identifiers to orders and to display them when they are ready to serve.

The application gives you great opportunity to modify ingredients, prices, meals, what allows flexibility while the customers order meals. Additional tablets, which are used to taking orders from clients, make the service faster.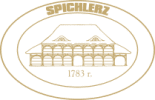 Awesome application, which allows making your own customized pizza. And the option of choosing two different halves of pizza - just great.

This application is perfect for café, large icons make easier to find the right item. They can be changed at any time. The developers help with implementation of the database.

Do you have any questions?
Our adviser will gladly answer all your questions. We are at your disposal from Monday to Friday from 9:00 to 17:00. You can also use our application form.
Get caught up and
join the group of

satisfied restaurateurs!

DKS – Additional Sales Channel – will multiply your orders and profits with fewer employees. Join. Pull.to – fill out the form.